Cloud Search offers enhanced search options for Land Corners in counties utilizing Section / Township legal descriptions. You'll enjoy the variety of ways to find the exact Land Corner Recordation Certificate you need.
Quick Search
First select Land Corners in the Department selector. If you know the Corner Code, you can enter it directly, such as F-1. You can also enter the combination of Township / Range and Corner Code, as in T7S R18W F-1.

Even more powerfully, take advantage of Full Text Search. Using our advanced OCR process, you'll be able to search for any word or phrase within the document, including Meander Corners, Surveyor's details, even the Surveyor's name.
Advanced Search
Take advantage of our Grid Search by clicking on the Advanced Search link and then select Land Corners in the department selector.
Select Town / Range from the selector. Then click on the appropriate Corner and click Search.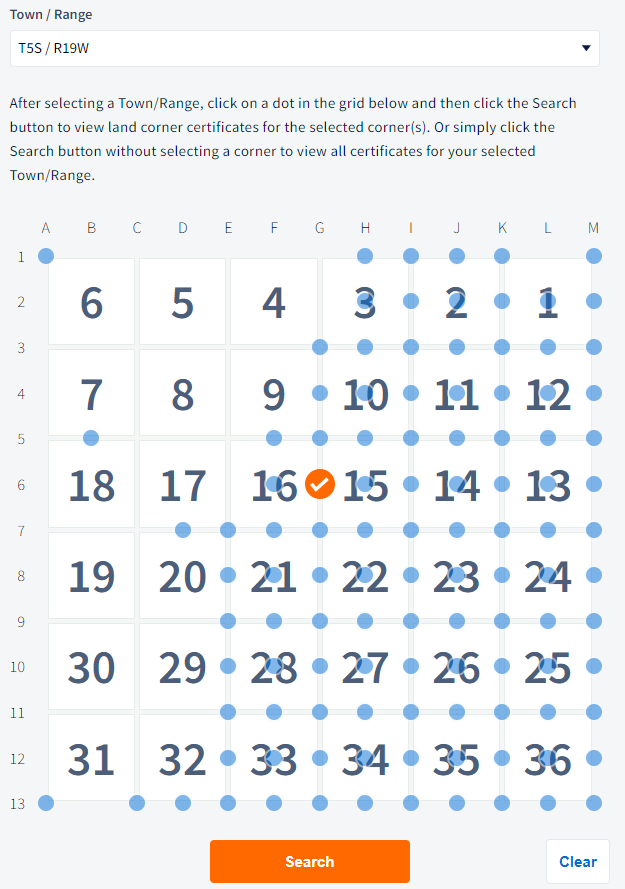 It's as simple as that!